About Us
Crystal Eatery is your one stop shop for all seafood and traditional Jamaican dishes alike. From Jerk Chicken to Porridge dishes to Roti, we have it all! If you're craving a tasty dish for lunch or dinner, come on down to Crystal Eatery and enjoy today!
To start off your meal, try a bowl of one of our many soups, like the classic Chicken Noodle Soup, or try something new like the Red Peas Soup or the Chicken Foot Soup!For a main course, you can order a plate of delicious Pepper Steak, cooked to perfection and with a side of either rice and beans, or white rice. We also offer a wide selection of delicious seafood dishes. Come and try our tasty Large Snapper, or the Shrimp Linguine!To finish off your order, try getting one of our many exotic flavoured drinks to enjoy with your meal! We have a wide selection of drinks including Ginger Beer, Tropical Rhythms, Tropical Delight, Fairlee Juice, and much more!No matter what you're craving, come on down to Crystal Eatery and enjoy a new lunch experience today! Not feeling like going out? We've got you covered! You can also order online for pickup or delivery through SkipTheDishes! Try it today!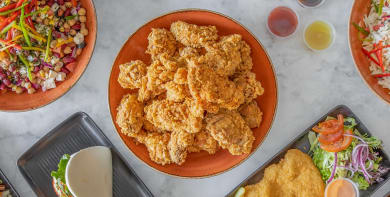 Reviews
"Ty ty I was the one who let you know I love your curry chicken big up to u onelove"
2022-01-07
"Please make your curry chicken it's so good just so yo know I settled for oxtail I'm not it's a fan of. But you're curry chicken isn't the best I grew up in the no neighborhood blesss up onelove"
2022-01-03
Contact Us
Find Us
632 Vaughan Rd, York, ON M6E 2Y3, Canada, Toronto, M6E 2Y3
Opening Hours
Tuesday
11:00 AM - 10:00 PM
Wednesday
11:00 AM - 10:00 PM
Thursday
11:00 AM - 10:00 PM
Friday
11:00 AM - 11:00 PM
Saturday
11:00 AM - 11:00 PM
Please note, delivery times may vary.
We deliver to
M2N, M2P, M2R, M3H, M3J, M3K, M3L, M3M, M4G, M4N, M4P, M4R, M4S, M4T, M4V, M4W, M4Y, M5M, M5N, M5P, M5R, M5S, M5T, M6A, M6B, M6C, M6E, M6G, M6H, M6J, M6K, M6L, M6M, M6N, M6P, M6R, M6S, M9A, M9N, M9P